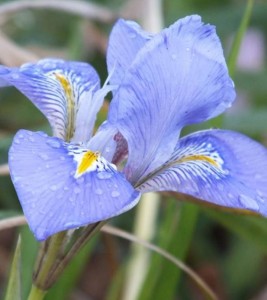 IRIS unguicularis
Algerian Iris
Unusual Iris, as it flowers in winter from December onwards.
It is a rhizomatous or bulbous perennial with narrow leaves to 30 cm in height. It has very fragrant flowers, deep violet marked with white and yellow at the base.
Maybe it's worth collecting seed from this Iris for plant breeding.
Looking for different colours, flower size etc.
You must keep records of any crossings you make. Be critical when making a selection, be prepared to be strict when discarding plants.
Pictures are important so get the camera ready to take photos to record your work.
For developing your new plant breeding selection or new plant discovery I can offer full training and new plant development service. More details are available on my website.
Also pictures can be taken, recorded and stored if needed.
'GOODY'S GARDENING' – MONTHLY GARDENING ADVICE
DECEMBER GARDENING
Now the weather has changed to colder conditions the clocks have changed, we had the first frosts of the season, December has started quite wet and windy, having just gone through storm Dierdie, with strong winds and heavy rain the weather has now turned milder, looks like this will be the pattern over Christmas, with a colder spell for January.
There is still work to be carried out in the garden.
Plants to look for in December
Clematis cirrhosa
Helleborus
Heathers
Hyacinthus
Iris unguicularis
Ophiopogon planiscapus – good foliage colour
If you have planted autumn bedding you will still need to keep all baskets and tubs watered and checked each day but reduce amount of watering keeping them moist and not wet.
Raise these up on pot feet or bricks to improve drainage.
Planting tulip bulbs, Daffodils, try some in tubs and patio plants mixed in with bedding to give early colour, still time to do this.
Look out daily for slugs and snails check your local garden centre for best controls, an idea I have seen is to place an old roof tile on ground, snails go under here during daytime just turn over and pick them off each day.
Continue to trim back and tidy garden, clearing weeds, while weather is open lift, divide and move perennials.
Regular weeding and hoeing whenever you can will keep weeds under control they will continue to grow during periods of mild weather.
Tidy and remove any fallen leaves from borders add them to your compost heap.
Good time still to move shrubs and trees if needed.
Now is a good time to carry out soil improvement works by adding compost , good to add also bark to heavy clay soils to improve drainage, frost will help break down soil.
Bring in any tender plants if not already done so, put in greenhouse or conservatory.
Pruning deciduous trees and shrubs can start during this month. Evergreens are best left now until the spring.
Good time now for seed collection now, storage is important, remember cultivars will not come true to type.
Continue mulching borders when its not frosty or snow on the ground.
Continue to mow lawn when needed, while weather is open and temps are above 5°c grass will keep growing but do not cut as short as you would in summer, keep edges neat,
Keep clearing leaves off lawns as they will block light, hold in moisture increasing risk of disease, moss and algae.
Avoid walking on lawn when frosty.
If you have a pond, put some net across to stop herons stealing your fish.
Good time to clean filters, skim leaves off pond surface and rake out of pond.
Drain down any pumps.
Break ice on the pond by holding a saucepan of hot water on it until it melts through.
Trim back marginal plants.
In the Greenhouse, finish cleaning.
Poinsettia are available now keep in a warm draught free room, don't buy from outside stalls, keep protected when transporting home.
For vegetables there is still time to plant broad beans, Garlic, and spring cabbage plants if you can find them, look in local garden centre.
You can grow herbs over winter if you dig some up and move indoors, they will need good light, don't overwater.
Sow peas – Meteor sown outdoors will give an early crop next year.
Time to paint fences and sheds carry out any repairs, in the greenhouse replace any broken glass needed before winter.
Pressure wash decking, put away furniture.
Patio heaters and chimineas may still be needed for those bright clear nights!
Good time for planning any new hard landscape projects to carry out over winter.
Build a compost heap for leaves and grass clippings.
Digging over soil will expose pest larvae to birds and improve soil structure, do this for all vacant vegetable garden soil in readiness for next year. Add plenty of organic compost from your own compost if you have it.
Put out food and water for birds during cold periods.
If you have a bonfire remember to check that you do not have a hedgehog in side! – they need gardeners help right now as populations are decreasing.
Clean tools and drain any petrol out of any power tools you will not use over the winter.
During these dark days, its is a good idea to get out those seed and plant catalogues and start planning for next year.
Check through the seed you have collected, see if any plant breeding projects spring to mind.
Enjoy the garden, Merry Christmas, and a Happy New Year to you all, see you next year.