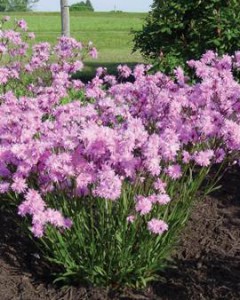 LYCHNIS flos-cuculi  'Petite Jenny' 
This compact version of the common ragged robin is ideal for today's small garden and containers.
Produces a stunning display of shaggy soft pink double flowers on slender wiry stems above narrow green clumping foliage.
Very free flowering will attract butterflies from May through to July, it is perfect for adding colour  to the front of a border.
Also good for pots on the patio, try it with other perennials and annuals in a mixed container.
Height 45cm
Spread 30cm
It was selected by Paul Gooderham from plants of Lychnis flos-cuculi 'Jenny' which is from UK Plant Breeder – Rainer Kretz.
I trialed the plant prior to it being introduced it and has US Plant Patent.
It shows the importance of looking out for new plants – sports or mutations amongst existing cultivars, you need to check though that its not protected in the EU as it could be an EDV – Essentially Derived Variety.
Now is the time to be busy with seed sowing of seed from your plant breeding projects, and pricking out those seedlings for trials later.
As you can see from the picture above new cultivars can be found from mutations and sports.
Keep records of what you sow and where its from. If you a making a new crossing check to see that there is not a similar one already in cultivation.
Get the camera ready to take photos to record your work.
For developing your new plant breeding selection or new plant discovery I can offer full trialling and new plant development service. You can find more details on my website.
MAY GARDENING
Well the weather has certainly changed as we go into May month with some high daytime temperature and dry weather, although frost is still possible and we have had some cold nights here in Norfolk. Temperatures down to 1°c and below with an air first on one night.
Now we have some much needed rain, we could do without the wind though!
Plants to look for in May
Delphinium
Brunnera
Viburnum
Geranium
Apple Trees
Geranium pheum
Peonies
Convallaria
Anemone
Prunus
Cornus
Forsythia
Hardy annuals can still be sown now, can sow direct into borders to fill gaps.
Prick out those seedlings and pot on those pricked out earlier last month.
Look out  daily for slugs and snails check your local garden centre for best controls, an idea I have seen is to place an old roof tile on ground, snails go under here during daytime just turn over and pick them off each day.
Pot up plug plants, water in well but allow to dry a little between watering. Will need regular checking for watering.
Plant out bedding now, it's arriving in bulk now at the garden centre. Just be aware that frost is still possible you may need to have some fleece at hand at short notice.
Time to plant up baskets and tubs.
I find that grasses such as Hakonechloa macra Aureola make really spectacular patio plants.
Remove old spring bedding to make way for summer.
Regular watering of containers is needed now, fortnightly feeding will improve flowering and quality.
Regular weeding whenever you can will keep weeds under control.
Plant out or pot up Cannas and Dahlia.
Divide up Primula now flowering is over.
Dead head tulips and Daffodils.
You can take cuttings softwood cuttings now.
Cut back sub-shrubs and tender shrubs such as  Fuchsia, Penstemon and Caryopteris.
You can trim evergreen hedges now, but beware of birds nesting you must not disturb.
Prune Pyrancantha by  shortening new growth.
Any new planting of trees and shrubs should not be allowed to dry out, loosen tree ties if needed.
Look out for Aphids and other pests, black spot on Roses, check with local garden centre for best controls.
If you grow Lilies pick off any Lilly beetle seen.
Look out for Vine Weevil damage, damage shows when plants start to wilt, on inspection roots will have been badly eaten
you may also see white c shaped larvae, apply a biological control, plants in containers are unlikely to recover.
Sedums and Geraniums can be badly affected.
Mow lawn regularly, mulch clippings or recycle, keep edges neat.
Apply summer fertilizer, follow instructions, slow release is best, do not apply in drought conditions, if  using feed and weed avoid getting onto ornamental plantings as it will cause damage.
If you have wild flowers in lawn and want to keep them then do not use feed and weed.
If you have a pond then keep water circulating,  clean filters as needed, you can divide and reduce any plants in pond possible to still plant up new bog gardens.
Iris Ensata is a good plant for bog garden and near ponds.
Remove blanket weed and skim off floating weeds such as duckweed.
Open greenhouse and increase ventilation on sunny days, extra shading like shade paint applied to outside may be needed.
Damp down the floor of the greenhouse on hot days this will control Red Spider mite.
Give plants space as they grow.
Check for pests like red spider mite, white fly, regularly, biological controls are available look online.
Pick off any dead leaves, keep floor and pathways free of plant debris this will assist with  pest and disease control.
In the vegetable garden continue weekly sowings of lettuce, radish, peas etc to get a continuity of crops
Earth up potatoes as they shoot through soil.
If you grow asparagus then you need to harvest at no more than 45cm max.
Harden off plant sowings like Tomatoes ready for planting.
Support peas as needed.
Harvest Rhubarb, but leave 2 thirds to grow on.
You may need to cover some plants to protect against bird damage , fleece is ideal.
Cover carrots to control carrot fly
At the end of the day on fine days get out the barbecue light up the heater and enjoy the garden.
Take time to relax in garden at some time each day.
The garden should be an extension of your house, an extra room if you like.