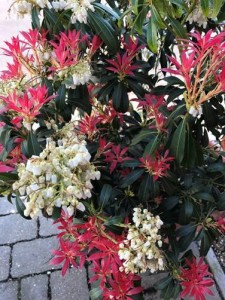 PIERIS 'Forest Flame, in flower now, with white flowers, the vibrant young red foliage becoming orange then yellow to green later make for striking garden shrub also good in pots. Like acidic moderately fertile soil, may need some protection in winter when young and Evergreen.
Ideal on banks and slopes, borders , containers, focal plant.
Like acidic soil, you will need to use a fertilizer for acidic plants if your soil is alkaline.
HT 250cm SP 250cm
Now is the time to be busy with seed sowing of seed from your plant breeding projects, for developing your new plant breeding selection or new plant discovery I can offer full trialling and new plant development service. More details is available on my website.
We can offer full support for EU Plant Breeders Rights Applications if UK leaves without a deal, we have a company in Europe that can provide the complete assistance to apply and maintain EU rights on your behalf.
Remember you will most likely need to have separate rights in the UK after we have left Europe.
It looks like spring may finally be here with temperature forecast to rise a brief cold snap over the next few days though, could be some frost at night.
Most trees and shrubs are now budding up, although we have had some rain, it is still quite dry.
APRIL GARDENING
Will April be full of April showers or drought!
Hardy annuals can be sown now, can sow direct into borders to fill gaps.
Many hardy perennials can still be sown now, sow into plugs or small pots.
Instant colour can be provided by planting Primula and Viola, look for cornuta types.
Look out for slugs and snails on new Hosta shoots, check your local garden centre for best controls
Pot up plug plants, water in well but allow to dry a little between watering
Put bedding plants outside during daytime on fine days, but bring them in at night this harden them up plants will get a better start.
Regular watering of containers is needed now, feed also will help get things underway.
Too early for summer bedding, but you can plant up tubs and baskets if you have a frost free area.
Regular weeding should be carried out whenever you can, so that it will keep them under control, perennials infested with spear/couch grass can be divided and weeds removed.
Divide those clumps of perennials like Hosta's, Hemerocallis, this will invigorate and improve plants, every three years or so.
For cut flowers you can plant up Delphiniums and annuals.
Prune Lavenders to new shoots.
Deadhead Pansies, Viola and Primula.
Deadhead Daffodils and Tulips.
Clean up winter bedding that has not survived remove self-seeded forget-me-nots so they do not take over other plants.
Look out for Vine Weevil damage, damage shows when plants start to wilt, on inspection roots will have been badly eaten. You may also see white c shaped larvae, apply a biological control, plants in containers are unlikely to recover.
Sedums and Geraniums can be badly affected.
Look for slugs and snails check online for best control methods or ask at local garden centre
Evergreens in cooler areas you can still move evergreen shrubs but it is getting late now and watering could be difficult as season progresses.
Much roses with organic matter.
Tie in climbing and rambling roses
Cut back Salix and Cornus.
Remove frost damaged shoots from evergreens.
Take cuttings of your favourite conifers.
If you have newly planted trees you will need to put on guards to protect against rabbit damage.
Mow lawn regularly now, keep to an even height throughout season. Better to cut a little higher if in a dry period.
Cut lawn edges.
Apply a spring fertilizer, can include moss killer if needed but care is needed with application as pollution of ground water can occur if used incorrectly.
Alternatively rake or scarify lawn to remove moss.
If you see a lot of starlings on your lawn then you may have leatherjackets – Crane fly larvae, look for controls on line, biological control is the only control available to amateur gardener.
If you have a pond start using water filters now, fish will be starting to be active don't overfeed.
Continue tidying marginal and bog plants.
In the greenhouse prick out seedlings, space out plants, check watering every few days.
The greenhouse will need venting each day now when weather is warm, you may need light shading on bright days.
Temperatures can drop at night you may still need the greenhouse heater or other protection.
On warm days damp down greenhouse floor helps to control red spider mite.
House plants can begin feeding now, check watering every few days.
Wipe clean shiny leaved plants with damp cloth.
In the veg garden winter sown broad beans and peas will be in active growth now, peas will need support, twiggy sticks are ideal.
Keep on top of weeding whenever conditions allow.
Plant potatoes now.
Continue sowing vegetable seeds now for succession of  crops.
Any seed for March can still be sown in April.
Sow, Beetroot, leaks, carrots, lettuce, cabbage etc.
Under glass sow, cucumbers, pumpkins, tomatoes, peppers.
In sheltered areas make first sowing of French beans.
Sweet corn can be sown now use a peat pot so you can plant direct in garden later.
Strawberries and Raspberries will be starting to grow now, feed with a tomato feed, not a high nitrogen feed.
Time to get out the barbecue and garden furniture ready to enjoy the long summer days.
Remove algae from patio and slabs, repair any fences still to do after the winter and give a fresh coat of paint.
Take time to walk round garden each day  – Enjoy.