February is here and already the days are noticeably longer.
Snowdrops are up and out in my garden a sign of spring amongst the recent snow.
This can be quite a cold month wet or snow, and as I write the weather forecast for the coming week is for cold weather with frost at night and maybe some snow.
You can start Dahlia tubers now in a light warm place, maybe you have a new cultivar to try out, you can find further advice about how to develop you plant breeding lines on my website.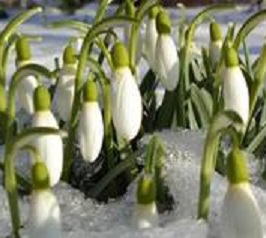 Sow those perennials this month, the cold weather will help stratify seed.
FEBRUARY GARDENING
February fill dyke black or white!
February can be a month of heavy rain and some winters snow, the phrase refers to ditches being filled with water or snow!
Snowdrops and Crocus will be up now.
Carry on clearing branches and twigs from recent storms, good idea to check fences and property borders for damage.
Trimming and tidying of perennials and grasses can continue while weather allows, trim dead leaves off Hellebores shows up flowers better.
If you have winter bedding, deadheading and removing dead leaves will prolong flowering and keep plants looking good.
You can divide perennials now those that have overgrown their allotted space and those you want to move, such as Geraniums.
Prepare beds for new planting such as roses, but remember do not plant Roses in the same area as previously planted.
Improve beds where you have poor drainage by digging in gravel and organic material now is the time for soil improvement when weather conditions allow.
Weeding of borders can also be carried out as these will continue to grow.
Plant Lilly bulbs in pots for summer flowers.
Dahlias and Cannas stored check for drying out and any disease, remove those that have rotted.
Good time to look through catalogues and order seed.
Last chance to take hardwood cuttings of ornamental shrubs like Cornus, Ribes, Salix.
Cut back ornamental vines.
For lawns you can lay turf and repair lawn where required but avoid wet or freezing weather.
If the lawn needs mowing cut to maximum height to give a tidy up, edging the lawn will give a nice neat finish.
Good time to get mower serviced, check tools and sharpen where needed.
Late summer and autumn flowering Clematis can be cut back to lowest pair of strong buds.
You can trim winter flowering Heathers as flowers fade to keep bushy habit.
Last chance this month for pruning apple and pear trees.
Time to cut back autumn flowering Raspberries and black currents to encourage new canes.
Not a lot to do with the pond if you have one keep from freezing completely.
Look at storing more water for watering your plants during dry months by installing more water butts.
Mulching is also worth considering best for next month.
If you have alpine plants then some gravel round crown helps with drainage.